At the End of the year, its time to look back at the photographic highlights of 2013
Aufgrund der Auswirkungen des strengen Winters an meinem Arbeitsplatz musste ich im Jänner eine fotografische Pause einlegen.
January was a non photographic month due additional work caused by the heavy snowfalls in Austria
MontgenèvreView over Montgenèvre in February
Im Februar war ich, wie jedes Jahr mit Freunden in Frankreich Skifahren. Diesmal ging es nach Montgenèvre, wo mich die D200 im Rucksack auf den Skipisten dieses kleinen familiären Skigebietes begleitet hat. Leider hatte ich während des Aufenthalts eine Grippe, die sportliche und fotographische Höchstleistungen weitgehend verhindert hat.
In February, I spent a week with friends in Montgenèvre in France. A perfect location to ski end relax in the nature. My D200 and 18-70 Kit lens enjoyed freezing temeratures, strong winds and powder skiing in the backpack. Unfortunately I got the flu, which somehow influenced my passion for skiing and photography.
Im März nutzte ich die ersten Anzeichen des Frühlings um den Hansag zu besuchen. In dem im Grenzgebiet zwischen Österreich und Ungarn gelegenen Nationalpark ist man mit einem Weitwinkelobjektiv irgendwie fehl am Platz, dort wimmelt es sprichwörtlich von Tierfotografen die mit ihren schweren Teleobjektiven die dort reichlich vorhandene Vogelpopulation gekonnt dokumentieren. Trotzdem eine wunderbare Gegend die bisher versteckt fast vor meiner Haustür lag.
In March I made a trip to Hansag, a National Park between Austria and Hungary. I somehow felt strange with a wideangle lens within lots of birdlife photographers waiting with at least 2 kilogram weighing optics on their tripods. Beside the fact that birdlife was no option, I really enjoyed the scenic surroundings there.
Im April durfte ich wieder Fotos von der Generalprobe der Fischamender Spielleut, einer talentierten Theatergruppe aus Fischamend machen. Das stimmig beleuchtete Geschehen auf der Bühne und die engagierten Schauspieler waren perfekt, um meine Kenntnisse in der Available - Light Fotografie mit einer, von einem Freund geliehenen Fixbrennweite, weiterzuentwickeln.
At the beginning of April I had the chance to make photographs at the final rehearsal of the play "Kleiner Mann, was nun" performed by the Fischamender Spielleut - a very talented theater group acting in Fischamend, Lower Austria. It was a pleasure to ban these fantastic actors and their wonderful stage set on sensor. The stage was also a wonderful playground for experiments and my first steps with a 50/1.8 prime lens.
Alt - WeitraDer Bahnhof Alt-Weitra zeit sich Zeitlos. Gerade passiert die Mh.6 mit ihrem Zug den Bahnhof
Im Mai habe ich begonnen, mich ernsthaft mit dem Thema Eisenbahnfotografie auseinanderzusetzen. Die Kombination aus Landschaftsfotografie mit einem bewegten, oft historischen Inhalt hats mir angetan, weshalb ich mir die Dokumentation einiger österreichische Schmalspurbahnen als Projekt vorgenommen habe. Nach 7 Monaten gibt es immer noch viele Facetten und Perspektiven vor allem auf der Mariazellerbahn, die ich in Zukunft gerne umsetzen möchte. Dieser Aspekt der Fotografie hat auch viele nette neue Kontakte gebracht, die neben einem freundschaftlichen Austausch auch hervorragend dazu dienen, seine fotografischen Fähigkeiten zu verbessern.
In May, I started a new project, railway photography. I like the challenge to combine a landscape and a moving train in an image. It was something I never seriously tried before and I decided to focus on narrow gauge lines in lower Austria first. I´m still fascinated how many different perspectives can be made from a single line, also I´m glad about the contacts which grew from this project which help to improve my photograpic skills.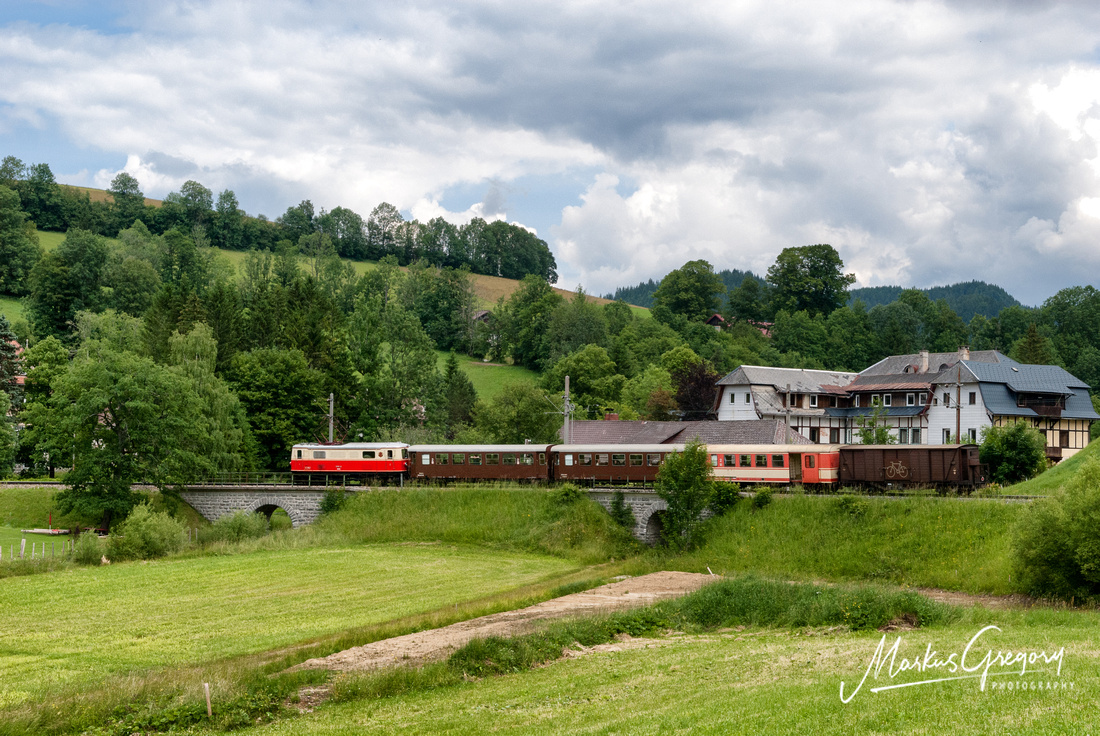 Mariazellerbahn, Wienerbruck BurgerbogenDie 1099.14 mit dem P 6808 Gemeindealpe am 29.6.2013 im Burgerbogen.
Im Juni begannen sie, die bisweilen 5 fotografischen Besuche entlang der Mariazellerbahn. Hätte ich früher angefangen, hätte ich mir auch mehr Zeit lassen können, da der einzigartige Fuhrpark dort im Oktober nach 102 Jahren in den wohlverdienten Ruhestand geschickt wurde. Ich habe mir diese Strecke ausgesucht, da sie neben ihrer landschaftlichen und technischen Reize auch eng mit meiner Vergangenheit verbunden ist. Während meiner Schulzeit war die Fahrt nach bzw. von Mariazell der Beginn und das Ende meiner Schulferien, ich habe also viel Zeit in der Gegend verbracht. Nachdem diese Erinnerungen mit dem Ausscheiden der alten Fahrzeuge ein Ablaufdatum haben, wollte ich möglichst viel davon noch festhalten, bevor der Einsatz nicht mehr alltäglich und damit nur mit größerem Aufwand festzuhalten ist.
In June I started a number of visits to the Mariazellerbahn, a narrow gauge line which has a direct connetion to my past. The train ride there was the beginning and end of every single of uncountable school holidays. The rolling stock there is over 100 years old and has been exchanged against modern electric multiple units in October. So it was predictable, that the scenes in my memory will have a concrete expiration date and I decided to improve my landscape skills on the one hand, and to use the remaining time for pictures on the other hand.
​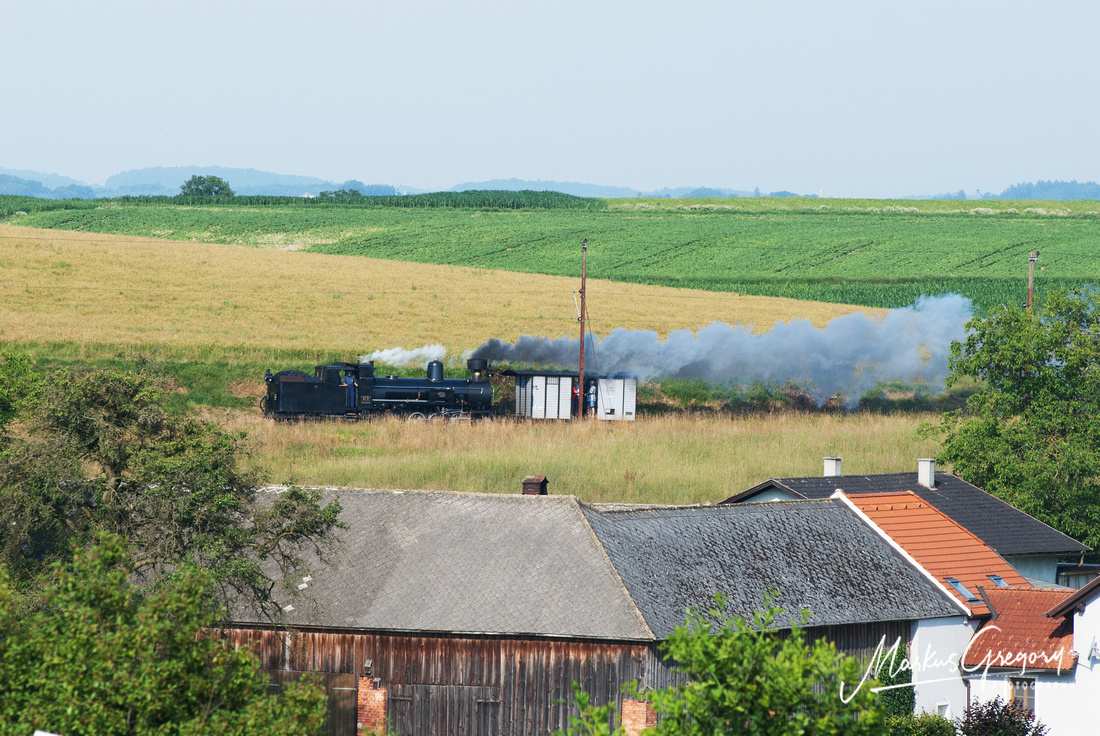 MatzersdorfDie Landschaft um Matzersdorf, zwischen Schwadorf und Ober-Grafendorf in der Morgensonne.
Countrysinde around Matzersdorf in the morning sun
Im Juli durfte ich lernen, was es heißt einen Zug entlang der Strecke zu verfolgen. Dampfzugfahrten auf der Mariazellerbahn kommen selten vor, da muss man den Tag nutzen, um mit einigen Bildern nach Hause zu kommen. Was bei einer Höchstgeschwindigkeit von 40 Km/h auf den ersten Blick leicht klingt, artet in der Umsetzung doch in ein stressiges Unterfangen aus. Es gilt, sich im Vorfeld gut vorzubereiten - das betrifft den Fahrplan, die Fahrtroute bei der Verfolgung, geeignete Fotostandorte oder den Sonnenstand. In der Ebene hat man mit der Verfolgung leichtes Spiel, auf der Bergstrecke benötigt man 30 Minuten über eine Bergstraße, während der Zug dieselbe Strecke in 5 Minuten im Tunnel durchquert. Und schliesslich bleibt für den Bildaufbau auch nicht immer die Zeit, sich die Einstellungen und Komposition in Ruhe zu überlegen. Auch hier haben die vorher genannten Kontakte viel zum Gelingen des Plans beigetragen, besonderen Dank an dieser Stelle an Tobi, den Eisenbahnclub Mh.6 und Michael für ihre Informationen, die sie mit einem "Neuling im Revier" teilen.
In July I learned how to plan and turn the challenge of a train into reality. What sounds easy on the first thought, is very demanding - even if the maximum speed of the train is 40 km/h. You have to prepare the schedules and streetmaps, plan your route to the spots with the right light at the right time. There are parts along the track where you need 30 minutes over a mountain road while the train passes the same mountain right through a tunnel in 5 Minutes, or you have a slow truck at a narrow road in front of you. The best preparation is worthless without information of locals, so special thanks to Tobi and the Club Mh.6 for sharing share your infomation with a newcomer in your territory.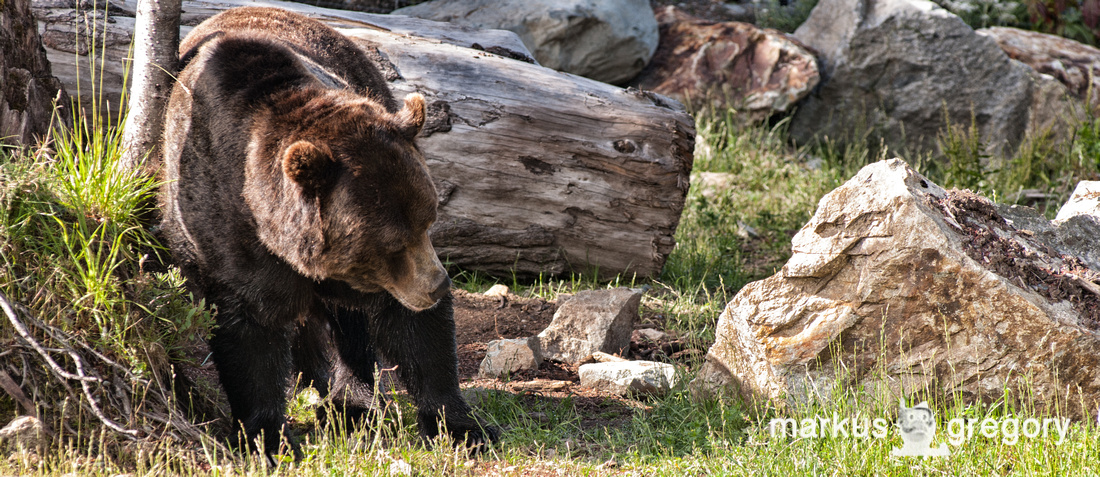 Grizzly BearGrizzly Bears in Grouse Mountain Resort
Mitte August gings für mich zum ersten Mal nach Kanada. In den 3 Wochen der Mietwagenreise von Vancouver nach Calgary gab es unzählige Eindrücke, die fotographisch festzuhalten waren. Neben der atemberaubenden Landschaft war die hautnahe Begegnung mit Bären in freier Wildbahn einer der schönsten Erfahrungen dieser Reise. Insgesamt 8 solcher Begegnungen sind eine gute Statistik. Das Fehlen eines Zauns zwischen Fotograf und der freien Wildbahn schafft allerdings den nötigen Respekt, weshalb nicht alle dieser Gelegenheiten fotografisch festzuhalten waren.
In August started my journey to Canada. During 3 weeks of a roadtrip from Vancouver to Calgary, there were uncountable impressions to ban on sensor. The most fascinating thing in August certainly was the meet and greet with grizzlies in wildlife. You need a little time to realize the fact that there is no fence between yourself and mother nature and of course a little luck to meet a bear in nature. After 3 weeks in Candada there were 8 bear sightings on the list, a very good balance sheet from my point of view
Neben der Tierwelt hat Kanada wie schon gesagt auch landschaftliche Reize ohne Ende. Der Maligne Lake ist eine vielbesuchte Touristenattraktion, das letzte Drittel des Sees allerdings bleibt den Kanufahrern vorbehalten. Dieser Umstand ermöglicht es die atemberaubende Bergwelt Kanadas ein wenig in Stille zu genießen. Ein hervorragender Spielplatz für mein 20 Jahre altes 80-200 Teleobjektiv und eine Herausforderung an Gleichgewicht und Bildaufbau, aus dem wackligen Boot zu fotografieren.
September was also dominated by my canada trip. Beside the Wildlife, Canda offers tranquility and wonderful landcapes behind each maple tree. The picture shows the famous Maligne Lake in Jasper National Park. The last section of this overcrowded tourist attraction belongs those individuals, who choose to explore the lake with paddles. This adventure is rewarded with breathtaking views of the surrounding glacier ice fields. It´s also a nice playground for my 20-year-old 80-200 lens. T
Lokhalle St. Pölten AlpenbahnhofDie Lokhalle in St. Pölten Alpenbahnhof wird zur Unterstellung und Wartung der Lokomotiven verwendet. Zum Aufnahmedatum am 14.10.2013 waren die 1099.016 und 1099.007 in der Halle eingestellt. Die 1099.016 hat kurz davor noch den P 6804 von Mariazell nach St. Pölten gezogen.

An den Seiten finden sich Werkbänke und Schränke mit den Utensilien, die für die Wartung der historischen Lokomotiven nötig sind, ebenso verfügt jedes Gleis über eine beleuchtete Montagegrube.

Die beiden linken Gleise verfügen an der Rückwand des Gebäudes über eine Zufahrt durch ein Tor in die Kranhalle, wo die umfangreichen Revisionen, die ein Zerlegen der Lokomotiven nötig machen, erfolgen. Die Einblicke in die Lok- und Kranhalle machen deutlich, welches einzigartige Know-How durch die an diesem Ort tätigen Spezialisten vorhanden ist.

Die "Jahrhundert" der Reihe 1099 ist auch nicht Spurlos an den Hallen vorübergegangen, gerade das macht den einzigartigen Flair aus, den man beim Betreten dieser Halle verspürt.
Im Oktober habe ich die einzigartige Möglichkeit bekommen, am Gelände des Alpenbahnhofs in St. Pölten die letzten Tage des Betriebsgeschehens der historischen Mariazellerbahn zu dokumentieren. Die Hallen bleiben dem Fahrgast normalerweise verborgen, strahlen allerdings eine einzigartige Stimmung und wertvolle Eindrücke über den Alltag der letzten 100 Jahre auf der Mariazellerbahn aus. Die Lichtverhältnisse waren ebenso herausfordernd, wie sein Gewand während des Shootings ölfrei zu halten. Vielen Dank für die einzigartige Möglichkeit, diese Bilder aufzunehmen.
In October I got the opportunity to make pictures in St. Pölten Alpenbahnhof, the main depot of the Mariazellerbahn. Only a few days after this picture, the over 100 year old electric engines have been retired from regular service, and the historic ambience in this loco shed is called history. It was challenging to compete with the available light conditions and not to get soaked by the lubricant oil that can be found everywhere here. This also marked the highlight of my railway project this year.
Im November hab ich die Canon EOS 100D getestet, allerdings nur weil sie als kleinste SLR Kamera der Welt vorgestellt wurde. Als Ablöse für die D200 kommt wegen des mittlerweile erworbenen Zubehörs nur ein Gerät von Nikon in Frage, ausserdem gewöhnt man sich mit der Zeit an die Haptik eines Herstellers und ist froh, gewisse Einstellungen "blind" treffen zu können. Allerdings merkt man, dass die letzten 10 Jahre der Entwicklung nicht spurlos vorübergegangen sind, ein solches Bild mit ISO 6400 würde meine Kamera nur mit starkem Bildrauschen produzieren - vielleicht der ausschlaggebende Impuls für eine Neuanschaffung - Bei der Bildqualität liegt viel am Fotografen, allerdings haben sich die technischen Grundlagen weiterentwickelt.....
In November I tested the Canon EOS 100D, the smallest DSLR in the world - just for fun, because a in case of a replacement for my D200 I would decide for Nikon again, simply because of my other still compatible gear. After years, the camera itself is only a fragment of invested money. A shot like this, with ISO 6400 out of cam wouldn´t be possible with my D200 without disturbing noise so I started thinking again seriously about a replacement. Im used to bigger cameras where all adjustments can be made without leaving the viewfinder with the eye, but image quality and haptic was still impressive for a consumer or beginners SLR.
Im Dezember war´s dann soweit. Ich hab die Geduld verloren, auf einen Nachfolger der D300s zu warten und stieg - wahrscheinlich genau weil es Nikon mit seiner Produktpalette bezweckt - auf Vollformat um. Entschieden hab ich mich, nach langem hin- und her für die Nikon Df. Ein tiefwinterliches Wochenende in Mariazell bot die richtige Umgebung, sich an die neue Kamera zu gewöhnen. Die Ergebnisse gerade bei schlechtem Licht haben mich diese Entscheidung nicht bereuen lassen - und lassen auf einen guten Start ins fotografische neue Jahr blicken.
In December, I finally decided to give up the DX Format, I maybe did what Nikon wanted and lost the patience in waiting for a successor for the D300s, which is of course better than the D200, but too old to spend this amount of money for a new camera. I spent a weekend in Mariazell to get used to the new camera, a Nikon Df. A very cold and snowy weekend was the right playground, these circumstances are challenging for photographer and equipment. I was amazed by the low-light capability and the handling of the camera - the picture above was shot freehand at ISO 1600. The results convinced me about my decision.